Formia Wing Foil Tour 2020
Client NameJhon Doe

DateMarch, 2014

CategoryShort Film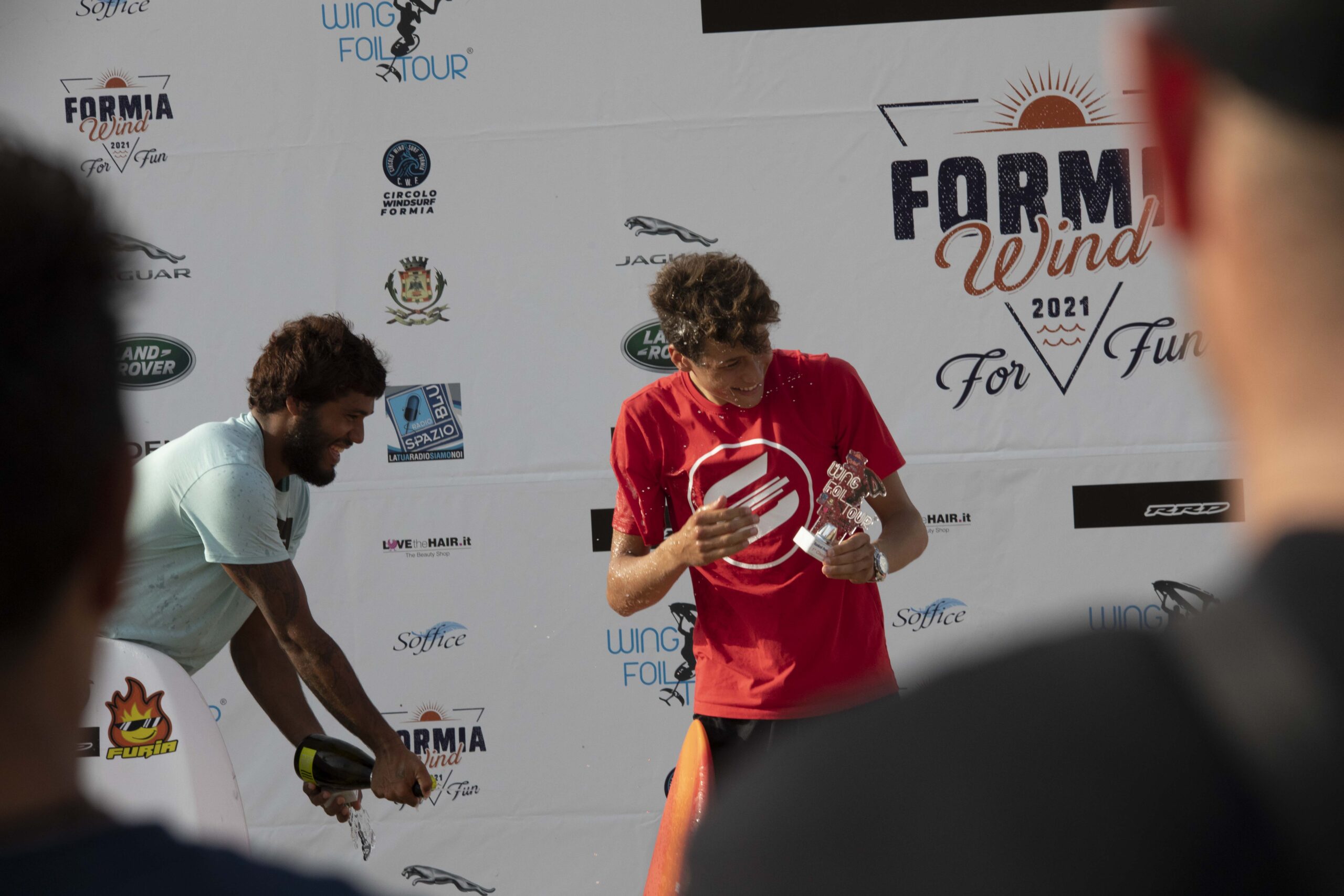 🇮🇹
Sono rientrato dall'ultima tappa del Campionato Italiano Wing FOIL tour che si è tenuta a Formia(Lt).
Siamo partiti venerdì con l'intento di entrare in acqua e provare lo spot già nel pomeriggio, memore dell'errore commesso a Puzziteddu, ma purtroppo il grande traffico non me lo ha permesso .
Sabato non si sono verificate le previsioni sperate, solo qualche sbuffo di vento, tale da non permettere nemmeno il posizionamento del campo di regata. Questa assenza di vento mi ha fatto preoccupare parecchio perché nel campionato solo un punto mi divideva da Francesco Cappuzzo.
La giornata di domenica prometteva vento così da convocare il primo skipper meeting alle 9. 
L'attesa si è protratta fino alle 13, quando delle piccole raffiche hanno iniziato ad increspare il mare. 
Improvvisamente un grande fermento ha iniziato ad animare la spiaggia, in pochi minuti dovevamo scendere in acqua per sfruttare appieno il vento.
Dovevo provare il materiale per decidere cosa utilizzare in gara, ma la prima scelta non è stata azzeccata, la vela 6.5 e il mast 101 non mi convincevano, poca velocità e troppo  morbido in bolina.
A pochi minuti dalla partenza ero in spiaggia per sostituire l'attrezzatura con l'adrenalina a mille, preoccupato di non raggiungere lo start in tempo. Grazie al mio caddy, stravolgo la strategia usando il mio solito must da regata e una vela 5.5 mt
Sono giunto sulla linea di start a soli tre minuti dalla bandiera verde. 
Non sono partito in buona posizione così da girare la prima boa quarto; da lì inizio a mettere nel mirino i primi che raggiungo facilmente, grazie ad un ottimo angolo di bolina merito delle mie nuove Wing.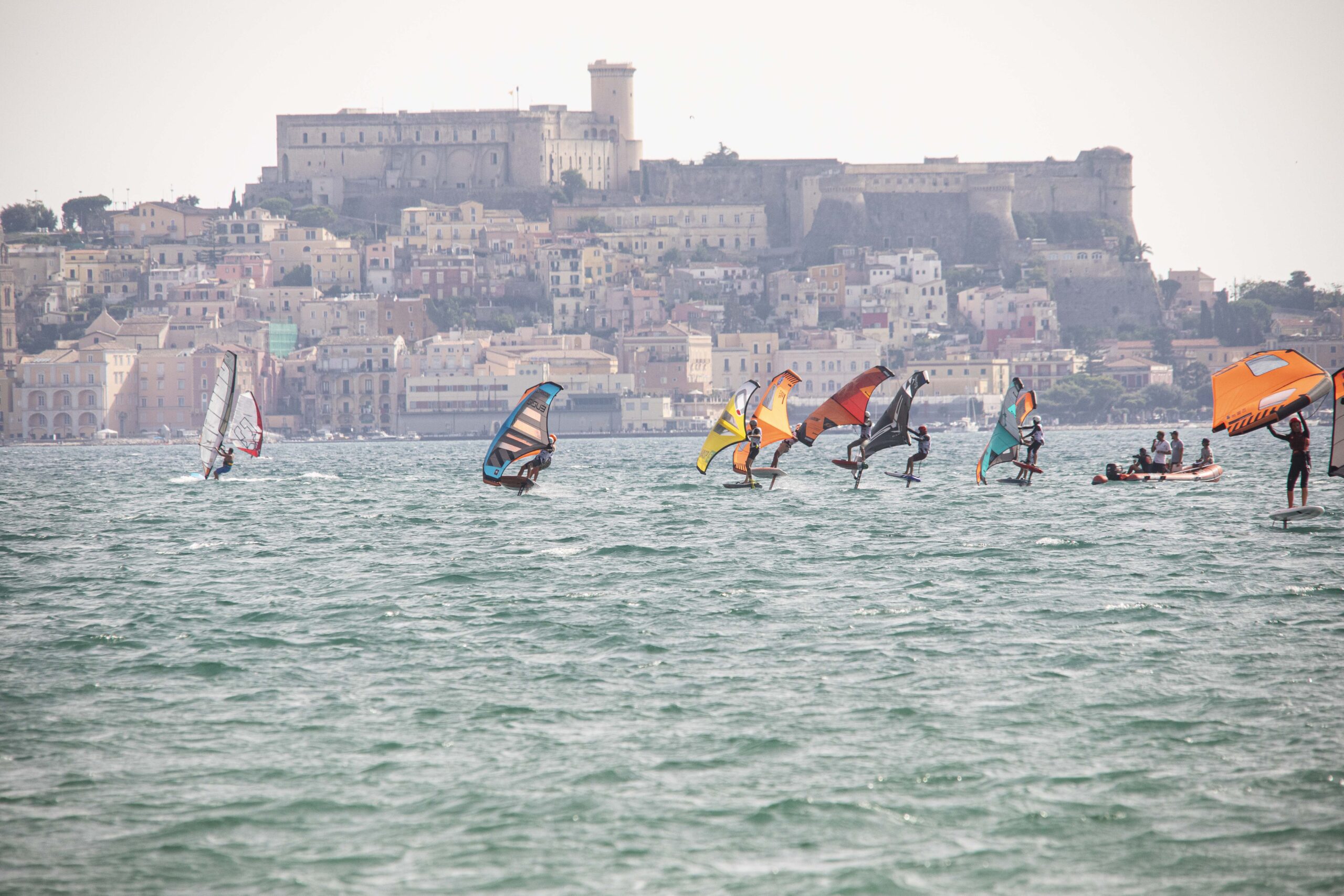 Nel secondo giro copro i miei avversari in tutte le loro mosse, tagliando per primo il traguardo.
Questo risultato mi carica così da girare le due successive prove sempre al massimo, piazzandomi primo!
Purtroppo alla quarta regata ho iniziato  a sentire la sete e la stanchezza; nonostante una buona partenza non sono riuscito a raggiungere Gollito e Francesco ed ho concluso in terza posizione.
In quel momento ho capito che, grazie allo scarto dell'ultima prova, sarei salito sul gradino più alto del podio aggiudicandomi per il secondo anno consecutivo il Campionato Italiano vincendo l'assoluto e Under 19 di Wing FOIL .
Se sono arrivato fino a qui è merito anche di tutti gli sponsor che stanno credendo in me, al mio preparatore atletico e grazie al supporto che mi sta dando la scuola, il Liceo Depero di Rovereto, che mi permette di allenarmi per migliorare e accrescere la mia preparazione in acqua.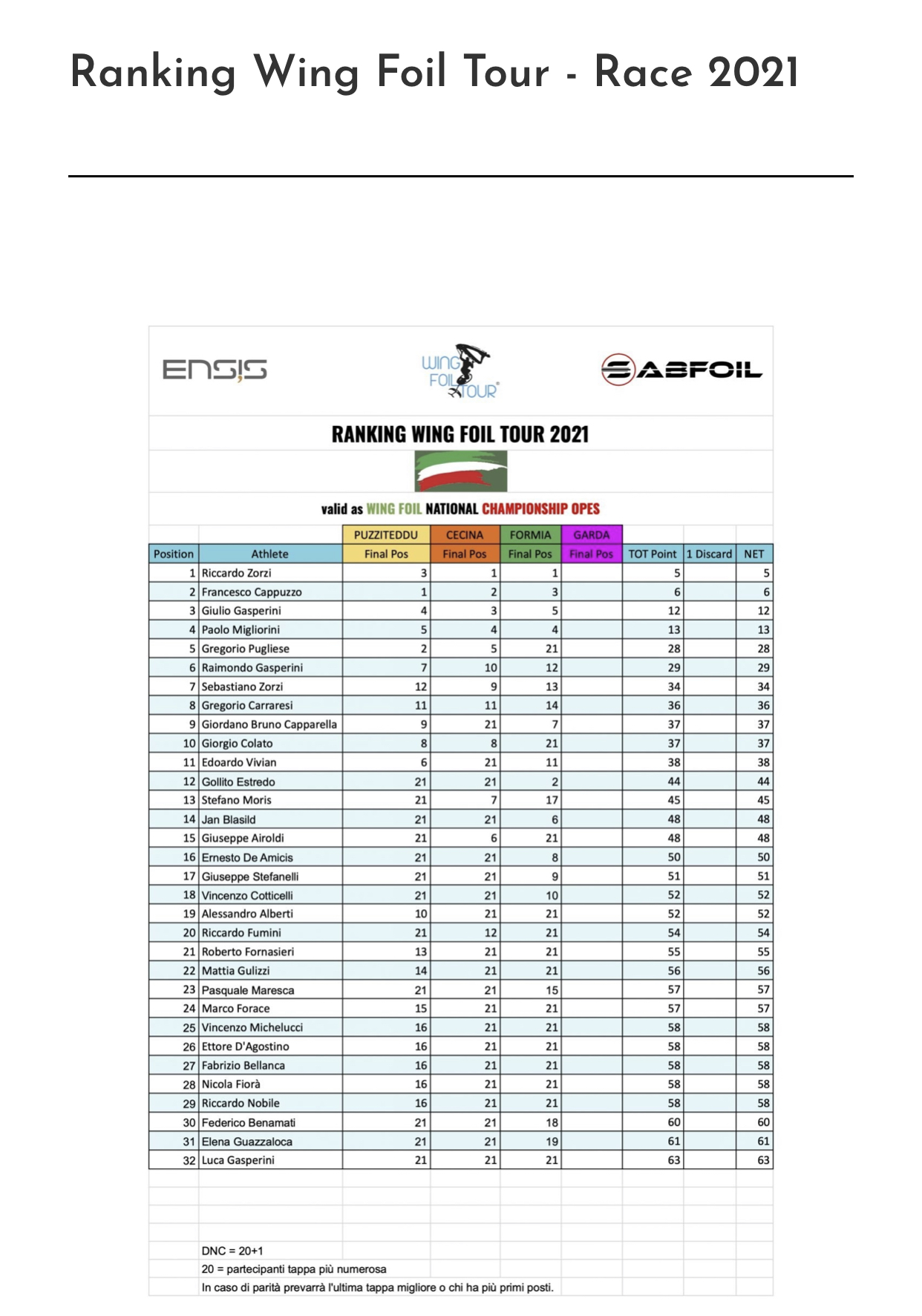 🇬🇧 I returned from the last competition of the Italian Wing FOIL Tour Championship which was held in Formia (Lt).
We left on Friday with the intention of entering the water and testing the spot already in the afternoon, mindful of the mistake made in Puzziteddu, but unfortunately the heavy traffic did not allow me to.
The expected forecasts did not occur on Saturday, only a few puffs of wind, such as not even allowing the positioning of the race course.  This lack of wind made me worry a lot because in the championship only one point separated me from Francesco Cappuzzo.
Sunday promised wind so as to call the first skipper meeting at 9.
The wait lasted until 1pm, when small gusts began to ripple the sea.
Suddenly a great ferment began to animate the beach, in a few minutes we had to be in the water to fully enjoy the wind.
I had to try the material to decide what to use in the race, but the first choice was not the right one, the 6.5 sail and the mast 101 did not convince me, low speed and too soft upwind.
A few minutes from the start I was on the beach to replace the equipment with a thousand adrenaline, worried about not reaching the start in time. Thanks to my caddy, I overturn the strategy using my usual regatta must and a 5.5 mt sail
I arrived on the start line just three minutes from the green flag.
I didn't start in a good position so as to round the first quarter mark;  from there I start targeting the first ones that I reach easily, thanks to an excellent upwind angle thanks to my new Wings.
In the second lap I cover my opponents in all their moves, crossing the finish line first.
This result loads me so as to run the next two tests always at the maximum, placing me first!
Unfortunately at the fourth race I started to feel the sitting and the tiredness; despite a good start I was unable to catch up with Gollito and Francesco and I finished in third position.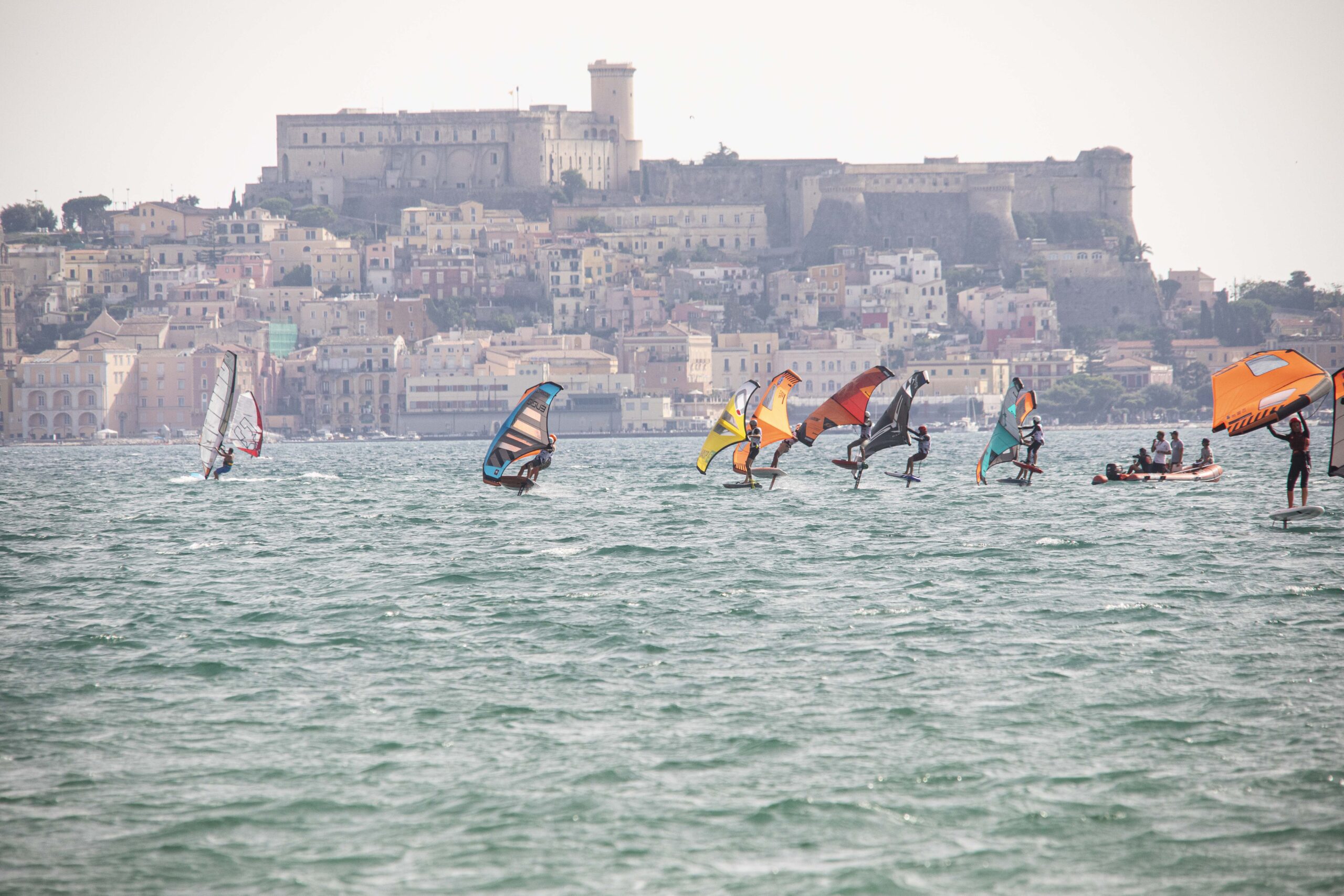 At that moment I realized that, thanks to the discard of the last test, I would have climbed to the top step of the podium, winning the Italian Championship for the second consecutive year, winning the overall and Under 19 of Wing FOIL.If I got this far it is also thanks to all the sponsors who are believing in me, my athletic trainer and thanks to the support that the school is giving me, the Liceo Depero in Rovereto, which allows me to train to improve and increase my my preparation in the water.