World Champions Wing FoilCampione del Garda

Date25 Ottobre

CategoryWorld Race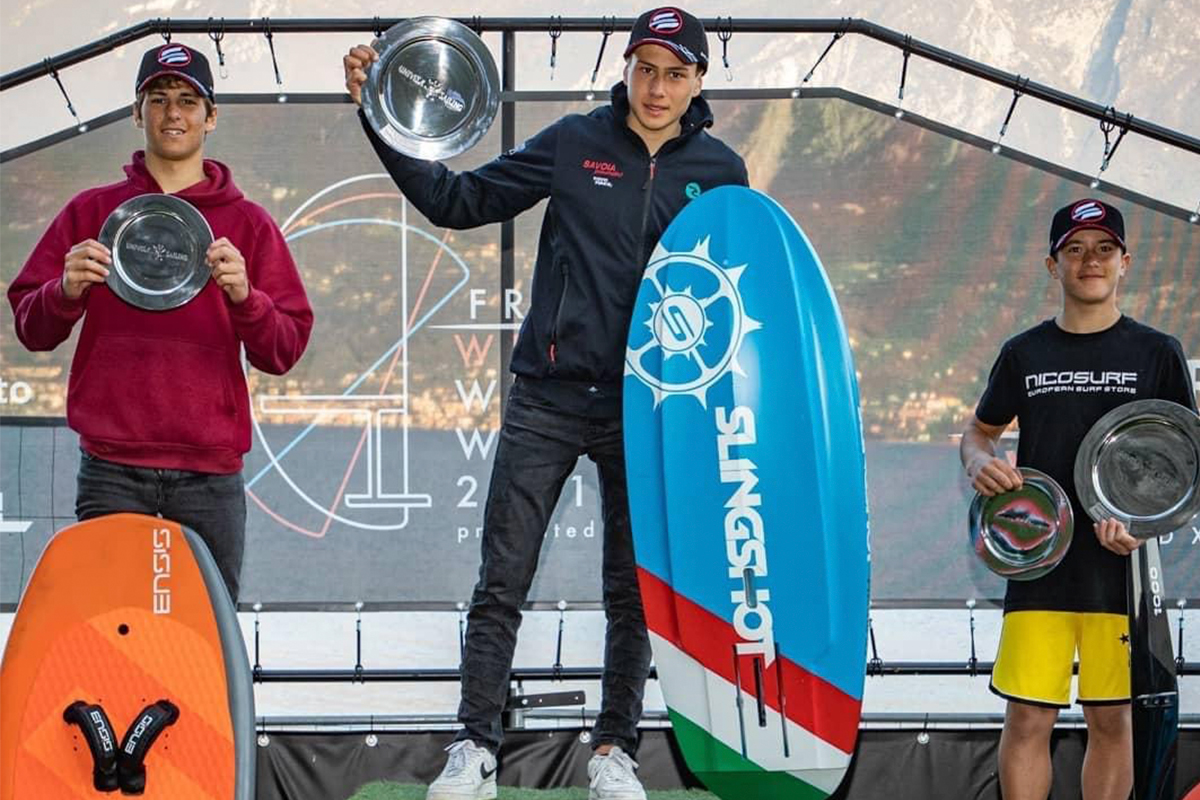 🇮🇹 / 🇬🇧  (below ) L'evento si è svolto a Campione del Garda praticamente a casa mia 😁.
Mi sono allenato molto per questa regata e sono andato per vincerla, forte dei miei precedenti risultati.
Mercoledì sono entrato in acqua per provare l'attrezzatura e mi sono sentito subito veloce senza dover spingere al massimo.
Giovedì primo giorno di regata hanno diviso gli atleti in 3 gruppi da 12 atleti, io ero in batteria con 4 atleti molto forti ed esperti in regate mondiali in quanto le frequentano da anni.
Passiamo ai fatti :
concludo le prime 3 regate di qualifica con 2° – 2° – 1° posto , il mio avversario e amico Ale Tomasi a fatto un po' meglio arrivando davanti a me per ben 2 volte.
Il pomeriggio si è alzato un forte vento da sud con pioggia. I giudici decidono di cambiare il percorso e anche la modalità di regata. Regatiamo tutti insieme, non avevo mai provato la partenza in 42 atleti e l'inesperienza non mi ha permesso di partire benissimo, ho fatto molta fatica a superare i miei avversari concludendo  6° 3° 5° . La sera ero arrabbiato con me stesso avendo fatto quel 6° posto  consapevole che mi sarebbe pesato parecchio, me ne vado a letto in 4th posizione assoluta.
Il mattino di Venerdì non si è alzato molto vento e i giudici hanno provato a mettere il campo ma senza successo.
Nel pomeriggio, con una classica Ora  Autunnale ( vento da Sud ) facciamo 4 prove in batterie e li non riesco ad andare oltre il 2° posto, facendo anche una partenza anticipata.
Per riassumere il parziale alla sera sono ancora in 4th posizione assoluta.
Il mattino di sabato il mio amato Lago mi regala il Peler ( vento Forte che spira da Nord ) che tanto aspettavo, preparo la mia attrezzatura in una piccola spiaggia a nord del circolo da solo in modo da non farmi condizionare dalle scelte degli altri atleti, visto che io il Lago lo conosco.
Preparo il mio Foil con il materiale più veloce possibile e scendo in acqua per primo, il mio orologio GPS mi dice subito che sono velocissimo tocco con facilità 30 Kn ( 55,5 Km/h ).
Parte la prima regata e sono subito tra i primi, sono le mie condizioni; stavo benissimo sul foil viravo e strambavo velocissimo concludo 4 prove 1°- 1°- 1° – 2° arrivato a terra felice ma mi accorgo che ho fatto una partenza anticipata di un metro forse, sono comunque soddisfatto.
Arrivo alle regate pomeridiane,  4 prove dove le mie forze iniziano ad abbandonarmi, non tanto fisicamente ma mentalmente. Dopo 3 ore di Peler da 25 Kn regatare al pomeriggio con 10 nodi mi ha distrutto psicologicamente e concludo 4° 5° 4° 2° con il vento leggero mi sento frenato forse la stanchezza forse non riesco a posizionare in maniera corretta la mia Wing o non so, dovrò analizzare bene il motivo ed allenarmi. Il pomeriggio praticamente vanifico il vantaggio accumulato e rimango in 4th posizione per la 3° notte consecutiva, praticamente stavo consolidando la mia 4° posizione 😂, cosa che non sopportavo
La domenica mi alzo prestissimo sapevo che mi sarei giocato tutto; il Peler spirava come il giorno prima e forse qualcosa in più preparo lo stesso setting nella prima regata sono primo ma in una virata cado e vengo raggiunto e concludo 4°, la seconda regata parto decisamente male furioso della caduta precedente e faccio ancora peggio 5° posto. La 3° la 4° el la 5° regata  me la gioco con i 4 davanti, tutti attaccati spuntando un 2° posto ed un 4° posto, non avevo fatto bene i conti con il calo della forza del vento e dei giudici che hanno fatto 5 prove e non 4.
In pausa pranzo le posizioni erano praticamente delineate avevo oltre 20 pt di vantaggio sul 5° rider e me ne servivano almeno 18 per raggiungere il podio.
Purtroppo al pomeriggio abbiamo regatato con 10 nodi e sapevo di non essere veloce, concludo con 7° 7° 4° posto e rimango in 4° posizione.
Per concludervi questa fantastica esperienza sono stato il miglior atleta Under 17 , ho guadagnato il 2° posto Under 19 e 4th assoluto al campionato mondiale di Wing Foil, non sono entusiasta di questo mancato podio ma a mente fredda mi rendo conto che ho imparato un sacco di cose in questa regata; ciò significa che ho ancora tanto da imparare per essere in grado di vincere ma rimango orgoglioso di aver reso la vita difficile ad atleti di grossissimo spessore cone Theo de Remecourt ( https://instagram.com/theoderamecourt?utm_medium=copy_link ) o Maxim Nocher  ( https://instagram.com/maximenocher?utm_medium=copy_link ) o Florian Gruber ( https://instagram.com/kiterflo?utm_medium=copy_link ).

🇬🇧 The first Wing Foil World Championship ended on Sunday, a single  stage.
 The event took place in Campione del Garda practically at my home 😁.
 I trained a lot for this regatta and went to win it, on the strength of my previous results.
 On Wednesday I went into the water to test the equipment and I immediately felt fast without having to push hard.
 On Thursday, the first day of racing they divided the athletes into 3 groups of 12 athletes, I was in the heats with 4 very strong and experienced athletes in world regattas as they have been attending them for years.
 Let's move on to the facts:
 I finish the first 3 qualifying races with 2nd – 2nd – 1st place, my opponent and friend Ale Tomasi did a little better by coming in front of me twice.
 In the afternoon there was a strong south wind with rain.  The judges decide to change the course and also the regatta mode.  We all race together, I had never tried the start with 42 athletes and inexperience did not allow me to start very well, I struggled to overtake my opponents by finishing 6th 3rd 5th.  In the evening I was angry with myself having done that 6th place aware that it would have weighed me a lot, I go to bed in 4th absolute position.
 On Friday morning there was not much wind and the judges tried to put the field but without success.
 In the afternoon, with a classic Autumn Hour (south wind) we do 4 tests in heats and I can't go beyond 2nd place, even making an early start.
 To sum up the partial in the evening I am still in 4th position overall.
 On Saturday morning my beloved Lake gives me the Peler (Strong wind blowing from the North) that I was waiting for so long, I prepare my equipment on a small beach north of the club by myself so as not to be influenced by the choices of the other athletes, since I know the lake.
 I prepare my Foil with the fastest material possible and I go down in the water first, my GPS watch tells me immediately that I am very fast touch with ease 30 Kn (55.5 Km / h).
 The first regatta starts and I am immediately among the first, these are my conditions;  I was fine on the foil I veered and jibed very fast I finish 4 tests 1st – 1st – 1st – 2nd arrived on the ground happy but I realize that I made an early start of maybe a meter, I'm satisfied anyway.
 I arrive at the afternoon regattas, 4 tests where my strength begins to abandon me, not so much physically but mentally.  After 3 hours of 25 Kn Peler racing in the afternoon with 10 knots it destroyed me psychologically and I finish 4th 5th 4th 2nd with the light wind I feel slowed down maybe the tiredness maybe I can't position my Wing correctly or I don't know, I'll have to analyze the reason well and train.  In the afternoon I practically nullify the accumulated advantage and remain in 4th position for the 3rd consecutive night, I was practically consolidating my 4th position 😂, which I could not bear
 On Sundays I get up very early, I knew I would gamble everything;  the Peler expired like the day before and maybe a little more I prepare the same setting in the first regatta I am first but in a tack I fall and I am reached and I finish 4th, the second race I start very badly furious from the previous fall and I do even worse 5th place.  I play the 3rd, 4th and 5th regatta with the 4 in front, all attacked, getting a 2nd place and a 4th place, I had not coped well with the drop in wind strength and the judges who have made 5 tests and not 4.
 In the lunch break the positions were practically outlined I had over 20 points of advantage over the 5th rider and I needed at least 18 to reach the podium.
 Unfortunately in the afternoon we raced with 10 knots and I knew I wasn't fast, I finish with 7th 7th 4th place and I remain in 4th position.