Tarifa GWA Wing Foil Tour 2021
Client NameKyle Jhonson

DateJune, 2015

CategoryFeature-Length Film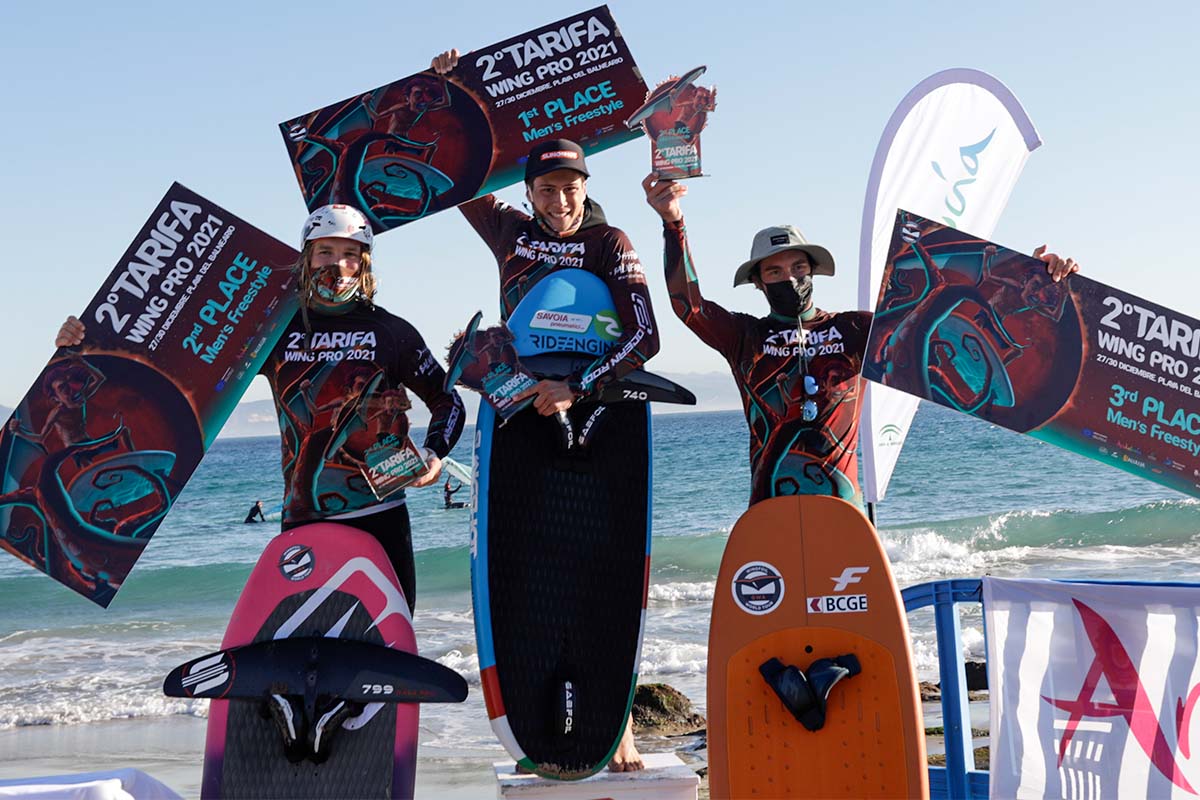 🇮🇹  / 🇬🇧  ( below ) Vi scrivo da Barcellona, città pazzesca che ho voluto visitare.
Sto rientrando da Tarifa dove ho disputato la tappa conclusiva del tour Mondiale GWA di Wing Foil.
Volevo condividere con voi il ricordo di questo fantastico evento.
Sono partito il 21 dicembre con tutta la mia famiglia per arrivare qualche giorno prima dell'inizio dell'evento così da potermi allenare ed ambientare alle condizioni del mare e dello spot.
Sfortuna vuole le condizioni meteo siano state pessime, tre giorni con poco vento e tanta pioggia, quindi poco allenamento e brutte condizioni.
In acqua c'erano già alcuni Francesi che si stavano allenando tra cui Malo Guenole (@malo_guenole) che eseguiva già dei Tricks pazzeschi con poco vento e sulle onde, non nascondo la mia preoccupazione di dovermi confrontare con lui in gara perché mi sentivo decisamente inferiore.
La sua manovra preferita era il BackFlip, ( una capriola avvitata all'indietro ), praticamente il mio incubo; sono mesi che ci sto provando ma non sono ancora riuscito ad eseguirla correttamente.
Il primo giorno di gara i giudici iniziano con i sorteggi e il primo con cui avrei dovuto confrontarmi sarebbe stato Stefan Spissberger (@stefanspissberger) un atleta dalla carriera invidiabile in freestyle kite e che da qualche anno sta facendo wingfoil con buoni risultati.  Con una bella dose di adrenalina e tensione ho iniziato la mia Heat contro di lui, un testa a testa ad ogni salto, devo dire che l'ansia di perdere ed andare subito contro Balz Múller (@radiculo) il più forte atleta degli ultimi 10 anni, si faceva sentire. Riesco a superare Stefan per pochissimi centesimi di punto e all'uscita dall'acqua ho guardato mio padre che aveva il punteggio dei giudici tra le mani. Quando ho visto il pollice alzato ho fatto un sospiro liberatorio pazzesco! 😅 sono passato io per soli 0.27 cent di punto! (17.13 – 16.89 )
 Il giorno 1 si concludeva con questa vittoria, quindi ho potuto riposare ed aspettare il giorno 2 dove mi sarei confrontato con  un atleta locale da non sottovalutare e senza perdere la  concentrazione .
Giorno 2 passo facilmente il turno con S.Carentz (@sam_carentz) un atleta del posto che conosceva bene lo spot. Unico problema del giorno era che anche il Francese Malo aveva passato tutti i turni e come temevo lo avrei trovato al Round 4,; questo pensiero non mi aveva fatto dormito tanto sereno. 😃
Il mattino seguente con un pò di agitazione mi sono preparato presto e sistemato tutta la mia attrezzatura per primo in spiaggia. Anche Malo aveva avuto la mia stessa idea , entrambi evitavamo di incrociare gli sguardi.
Per tutta la mattinata siamo rimasti in attesa del vento che però aveva deciso di prendersi un giorno di pausa quindi il comitato di gara ha deciso di farci fare un Expession nelle Onde di Tarifa.
La gara consisteva nell'essere trainati da delle moto d'acqua e riuscire a surfare le fantastiche onde dell'Oceano Atlantico.
In molti sono rimasti sul bagnasciuga , timorosi di affrontare la forza del mare. Non potevo perdere questa occasione e nonostante la mia inesperienza sono riuscito a raggiungere la moto d'acqua e realizzare il sogno di sentirmi leggero sulla cresta dell'onda .
Gli atleti francesi hanno dato spettacolo e proprio Malo ha lasciato il pubblico a bocca aperta grazie ai sui backflip e alle carvate eleganti su onde veramente grandi.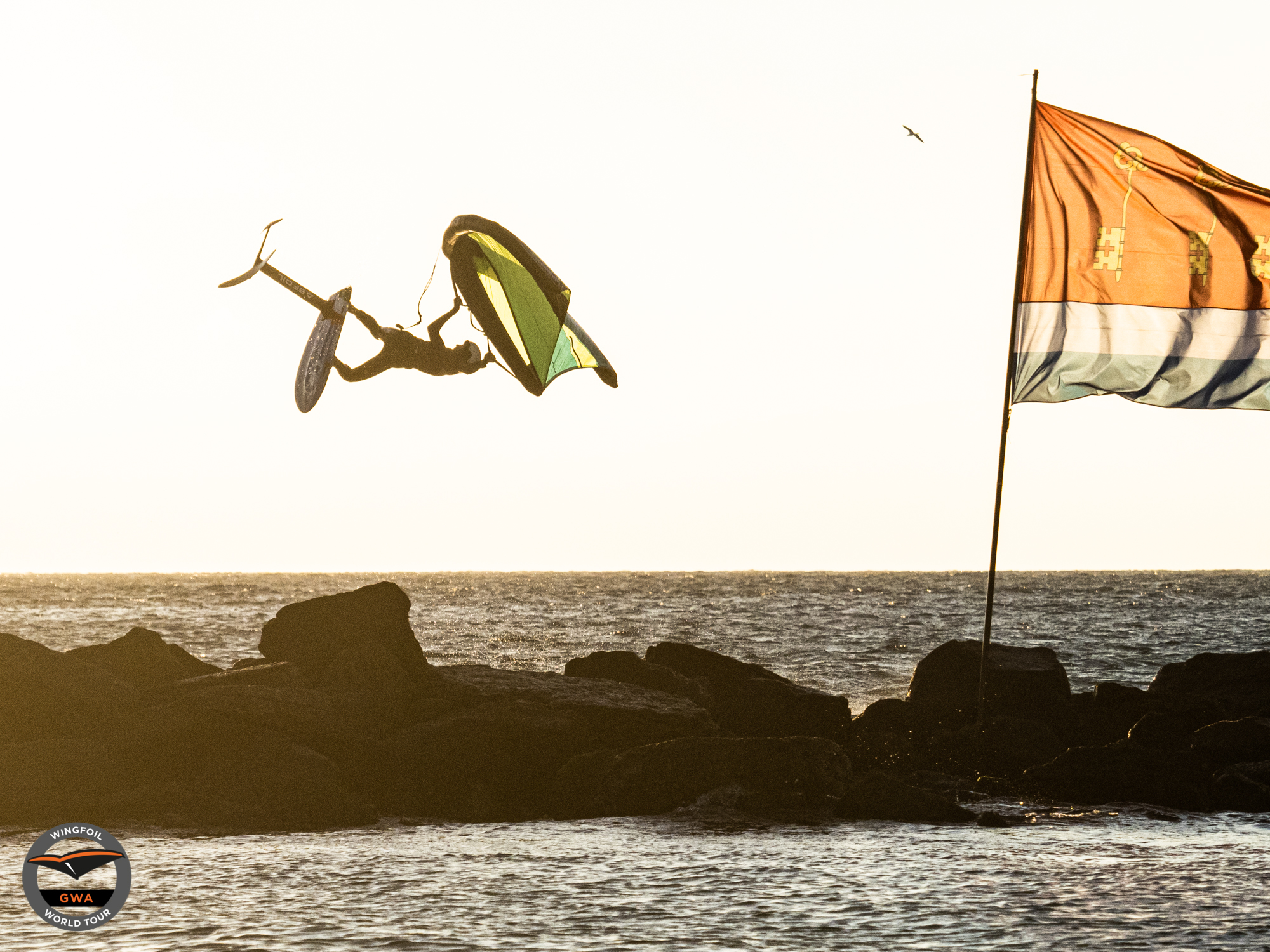 Quarto e ultimo giorno di gara, il vento soffiava intenso già dalle prime ore dell'alba e tutto era ancora da decidere, soprattutto le gare race.
I giudici hanno dato il primo start alle 8 quando ancora il sole non era alto nel cielo. Non c'era tempo da perdere e gli atleti si esibivano uno dietro l'altro dando spettacolo, sostenuti dall'applauso del pubblico.
Il momento era arrivato, dovevo rimanere concentrato perché sapevo che il confronto con Malo avrebbe condizionato tutto il resto della giornata.
Un testa a testa fino all'ultimo secondo, i giudici non pubblicavano i risultati così nessuno in spiaggia mi poteva suggerire se serviva spingere ancora di più. Gli otto minuti di sfida sembravano infiniti ed entrambi eravamo in ansia. Ho superato il mio temuto avversario con ben 2,15 punti di distacco.
Ora dovevo solo rimanere lucido, pensare alla giusta strategia da adottare per migliorare i miei salti così da ottenere il punteggio più alto.
Con Gregorio Pugliese, un atleta italiano di cui conoscevo il repertorio di manovre, non ho voluto rischiare , dovevo solo passare la heat con salti semplici ma perfetti.
Sono arrivato in semifinale, i giochi ora si facevano veramente difficili. Ad aspettarmi c'era Julienne Salmon , tedesco ,che aveva battuto il grande Francesco Capuzzo e di cui sapevo ben poco.
Una volta in acqua ho eseguito un front side 360 quasi perfetto che mi ha dato una grande carica, Salmon continuava a crashere ed io mi invece cercavo di essere impeccabile.
Ho concluso la heat con più di 5 punti di vantaggio, il podio era garantito!
Ero già felice del mio risultato, avrei disputato la finale con un colosso come Balz Muller .
Sono entrato in acqua molto rilassato perché comunque fosse andata ero soddisfatto delle mie performance . Propio questo mi ha liberato dalla tensione ed ho iniziato a saltare come piace a me, alto, sicuro e fluido nei  movimenti. Ho pensato solo a fare del mio meglio, a divertirmi e a dare spettacolo.
Rivedendo le foto mi sono reso conto di aver fatto una grande heat.
I giudici stavano tenendo nascosti i risultati, aspettavano che entrambi fossimo tornati in spiaggia  per proclamare il vincitore.
Quando ho sentito pronunciare il mio nome ho avuta una stretta al cuore per l'emozione, sono corso subito verso mio padre con le braccia alzate ed ho urlato per la felicità.
A mente fredda posso dire che questo risultato si frutto di un lavoro di squadra fatto da Sabfoil con i suoi materiali performanti, Slingshot che mi ha fornito tutte le ali che mi aiutano a volare alto, il mio coach Daniele Concas che mi ha allenato duramente, alla mia Nutrizionista Alina che mi ha mantenuto sempre tonico con la sua Super alimentazione e Rideengine che mi ha fornito delle mute fantastiche.
Ringrazio tutti gli sponsor – Savoia Pneumatici, Toyo Tyres, Immobiliare Costa Blu, KitecenterGardaLake, La Vecia Mescola – che hanno creduto in me in questa stagione di crescita, permettendomi di partecipare a tutte queste gare.
Un grazie va alla Dirigente scolastica del liceo Artistico Depero di Rovereto e a tutto il corpo docenti per il sostegno scolastico.
p.s. Dimenticavo ho terminato l'anno di competizione Mondiale concludendo al 5# posto assoluto partecipando a soli 2 eventi ( Leucate 3° posto e 1° posto a Tarifa ) su 4 Tappe nonostante questo sono campione del mondo  categoria Freestyle Under 19 🏆
Vi allego qualche foto i punteggi e i video dell'evento
Per tutto il resto lo trovate sul Sito GWA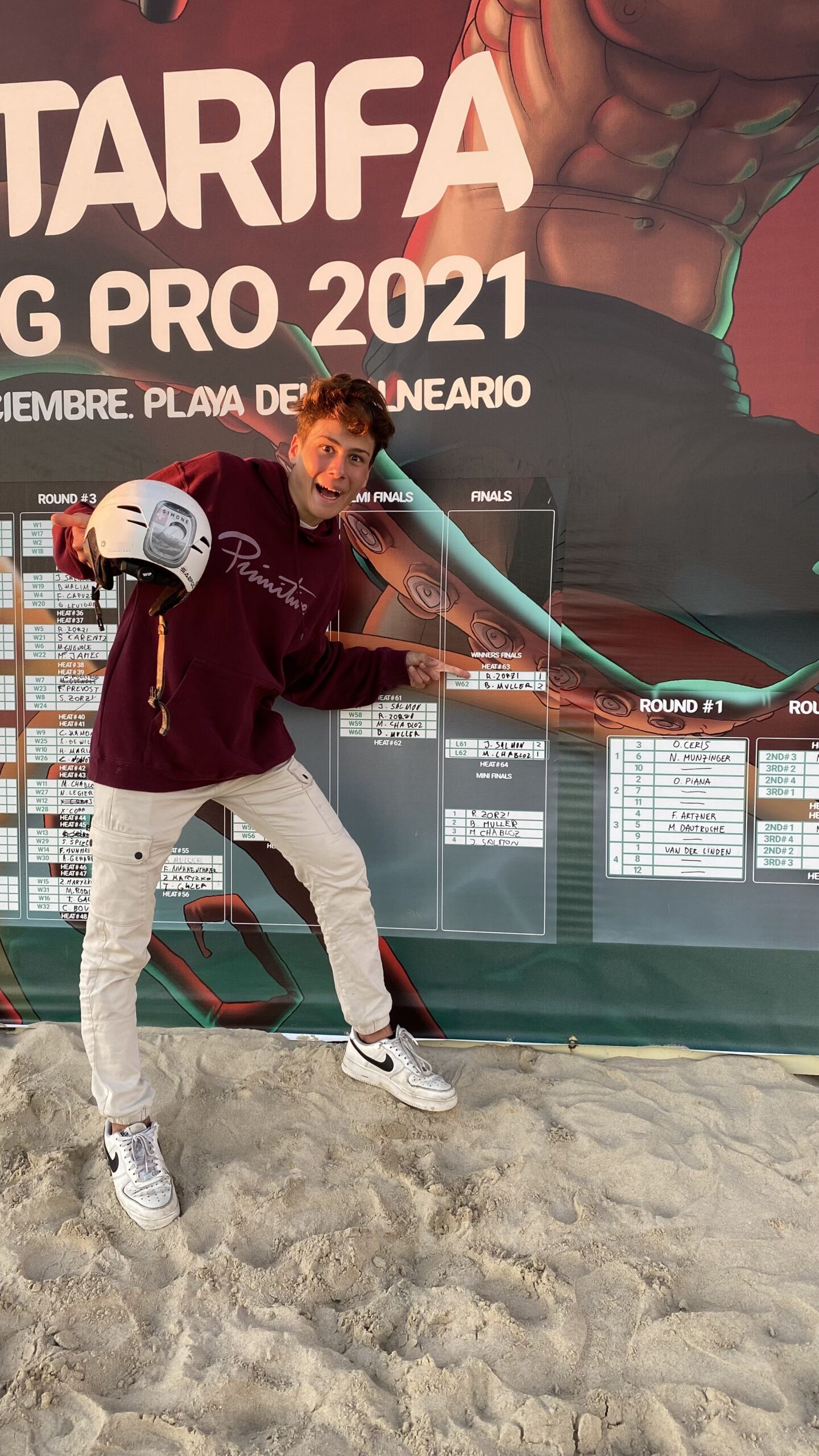 🇬🇧 I am writing to you from Barcelona, ​​a crazy city that I wanted to visit.
I'm returning from Tarifa where I played the final leg of the Wing Foil GWA World Tour.
I wanted to share with you the memory of this fantastic event.
I left on 21 December with my family to arrive a few days before the start of the event so that I could train and acclimatize to the conditions of the sea and the spot.
Unfortunately, the weather conditions were bad, three days with little wind and a lot of rain, so little training and bad conditions.
In the water there were already some Frenchmen who were training including Malo Guenole (@malo_guenole) who was already performing crazy Tricks with little wind and on the waves, I do not hide my concern of having to compare myself with him in the race because I felt decidedly inferior .
His favorite maneuver was the BackFlip, (a somersault screwed backwards), practically my nightmare; I've been trying for months but I haven't been able to do it correctly yet.
The first day of competition the judges started with the draws and the first one I would have to face would have been Stefan Spissberger (@stefanspissberger) an athlete with an enviable career in freestyle kite and who has been doing wingfoil with good results for some years. With a good dose of adrenaline and tension I started my Heat against him, a head to head with each jump, I must say that the anxiety of losing and going immediately against Balz Múller (@radiculo) the strongest athlete of the last 10 years, it made itself felt. I manage to overtake Stefan by just a few hundredths of a point and when I got out of the water I looked at my father who had the judges' score in his hands. When I saw the thumb up I gave a crazy liberating sigh! 😅 I passed by only 0.27 cents of a point! (17.13 – 16.89)
 Day 1 ended with this victory, so I was able to rest and wait for day 2 where I would be confronted with a local athlete not to be underestimated and without losing concentration.
Day 2 I easily pass the shift with S.Carentz (@sam_carentz) a local athlete who knew the spot well. The only problem of the day was that the Frenchman Malo had also passed all the turns and as I feared I would find him in Round 4; this thought had not made me sleep so peaceful. 😃
The next morning with a bit of excitement I got ready early and set up all my gear first on the beach. Malo also had the same idea as me, we both avoided making eye contact.
All morning we were waiting for the wind but it had decided to take a day off so the race committee decided to let us do an Expession in the Waves of Tarifa.
The race consisted of being towed by jet skis and being able to surf the fantastic waves of the Atlantic Ocean.
Many remained on the water's edge, fearful of facing the force of the sea. I could not miss this opportunity and despite my inexperience I managed to reach the jet ski and fulfill the dream of feeling light on the crest of the wave.
The French athletes put on a show and just Malo left the audience speechless thanks to his backflips and elegant carvings on really big waves.
Fourth and last day of competition, the wind was blowing intensely from the early hours of dawn and everything was still to be decided, especially the race races.
The judges gave the first start at 8 when the sun was not yet high in the sky. There was no time to waste and the athletes performed one after the other giving a show, supported by the applause of the audience.
The moment had come, I had to stay focused because I knew that the confrontation with Malo would affect the rest of the day.
Head to head until the last second, the judges did not publish the results so no one on the beach could suggest if I needed to push even more. The eight-minute challenge seemed endless and we were both anxious. I overtook my feared opponent with 2.15 points behind.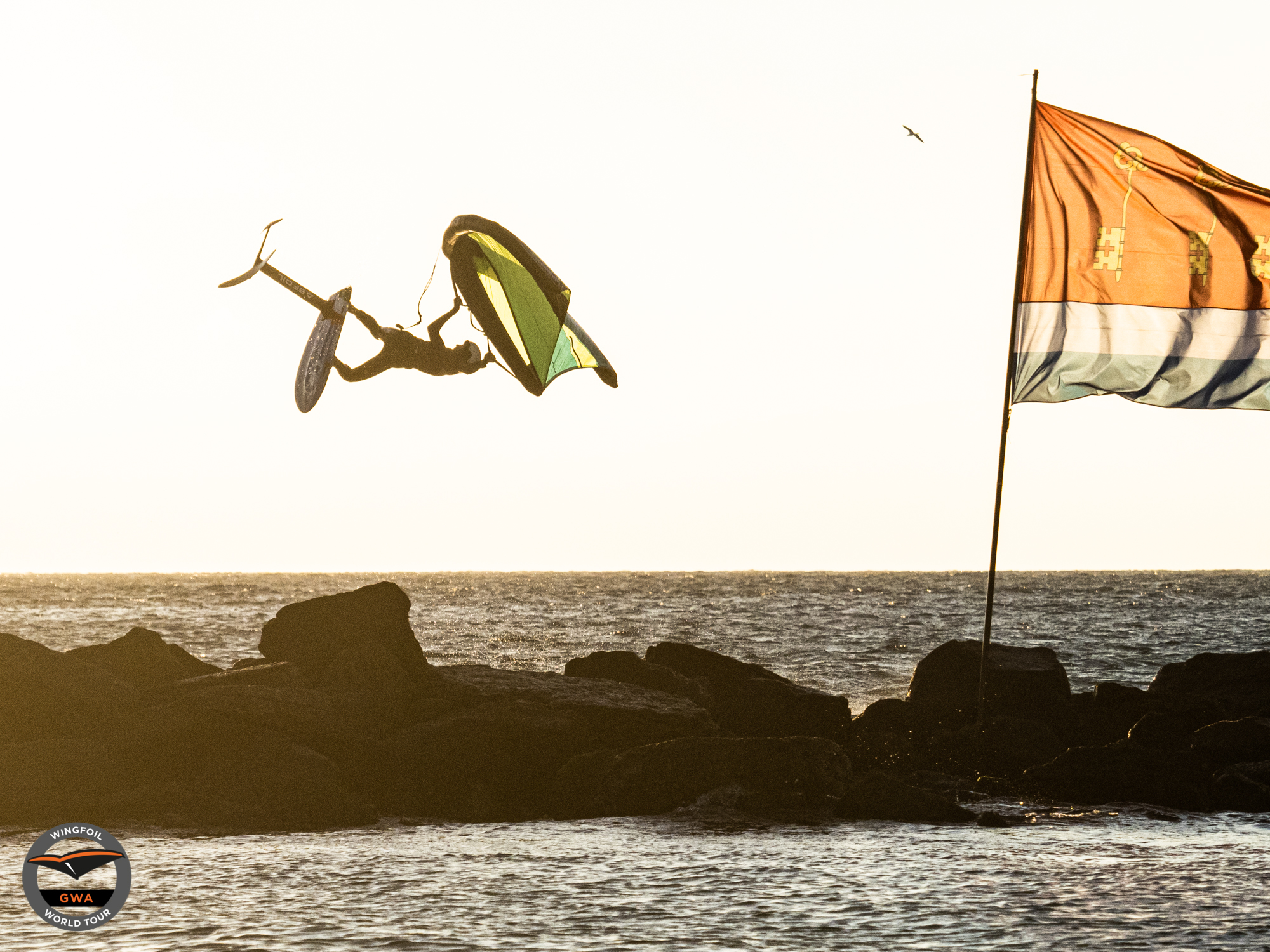 Now I just had to stay lucid, think about the right strategy to adopt to improve my jumps so as to get the highest score.
With Gregorio Pugliese, an Italian athlete whose repertoire of maneuvers I knew, I didn't want to risk it, I just had to pass the heat with simple but perfect jumps.
I got to the semifinals, the games were getting really difficult now. Waiting for me was Julienne Salmon, a German, who had beaten the great Francesco Capuzzo and of whom I knew very little.
Once in the water I did an almost perfect front side 360 ​​which gave me a great boost, Salmon kept crashing and I was trying to be flawless.
I finished the heat with more than 5 points, the podium was guaranteed!
I was already happy with my result, I would have played in the final with a giant like Balz Muller.
I went into the water very relaxed because however it went I was satisfied with my performance. This just freed me from tension and I started jumping as I like it, tall, confident and fluid in my movements. I just thought about doing my best, having fun and putting on a show.
Reviewing the photos I realized I had a great heat.
The judges were keeping the results under wraps, waiting for both of us to return to the beach to announce the winner.
When I heard my name being pronounced, my heart tightened with emotion, I immediately ran to my father with my arms raised and screamed for happiness.
With a cold mind I can say that this victory is the result of a team work done by Sabfoil with its performance materials, Slingshot who provided me with all the wings that help me fly high, my coach Daniele Concas who trained me hard, to my Nutritionist Alina who always kept me tonic with her nutrition and Rideengine who provided me with fantastic wetsuits.
I thank all the sponsors – Savoia Pneumatici, Toyo Tires, Immobiliare Costa Blu, KitecenterGardaLake, La veccia Mescola – who believed in me in this growing season, allowing me to participate in all these races.
Thanks goes to the Headmaster of the Depero Artistic High School in Rovereto and to all the teachers for their scholastic support.
p.s. I forgot I finished the year of World competition finishing in 5th place overall, disputing only 2 events (Leucate 3rd place and 1st place in Tarifa) on 4 Stages; despite this I am world champion in the Under 19 Freestyle category
Happy 2022 everyone.
Riccardo
I send hear video and photos
For everything else you can find it on the GWA website